Circulation Boosting Complex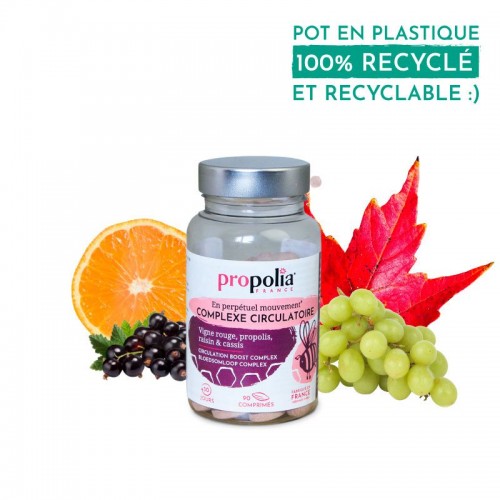 Labels
Ingredients
Pure micronized Propolis extract 23%, Common Grape Vine extract (Vitis vinifera) 23%, Maltodextrin, Grape Marc extract with 50% polyphenols (Vitis vinifera), Blackcurrant extract (Ribes nigrum), Lemon extract (Citrus limon), Vitamin C (ascorbic acid). Anti-agglomerants Tricalcic phosphate, plant-based Magnesium Stearate.
Contains 80 x 650mg capsules.

Per three capsules:
Propolis extract 450mg (Propolis 67.5mg); Common Grape Vine extract 450mg; Grape Marc extract 150mg (polyphenols 75mg); Blackcurrant berry extract 150mg; Lemon extract 150mg; Vitamin C 90mg (112.5% of RDA*)
*RDA: Recommended Daily Amount
Key ingredients

Propolis:
The beehive's natural defence acclaimed for its many benefits (learn more)
Red vine:
The Common Grape Vine is known for its OPCs which make it a product of choice for your circulatory health (learn more)
Blackcurrant:
Known for the anthocyanins in its berries which make it a good supplement for traditional use (learn mores)
Directions for use

Take three capsules a day (for 25 days), preferably with meals.
Precautions
Not recommended for people who are allergic to beehive products, pregnant women and children under three. Does not replace a varied and balanced diet and a healthy lifestyle. Keep out of the reach of children. Do not exceed the daily recommended dose. Store in a cool, dry place.