Evening Syrup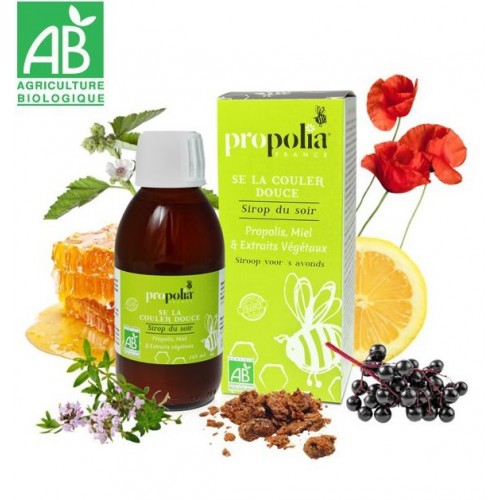 Labels
Ingredients
Rice syrup* (gluten-free), Honey* 20%, Aqueous plant extracts* 16% (Poppy*, Marshmallow*, Elderberry*, Thyme*), Lemon juice*, Purified Propolis Extract* 3%.
*Ingredients coming from organic farming
Nutritional value for 15 ml (3 tablespoons):
Honey 3,87g; Propolis Extract 580mg; Aqueous Plant Extracts: Papaver rhoeas 773mg, Althaea officinalis 773mg, Sambucus nigra 773mg, Thymus vulgaris 773mg; Lemon Juice 0,97g.
Key ingredients

Propolis (3%) :
Natural beehive protector, utilised throughout the ages. (Get to know more)
Miel (24.5%)
Well-known for its sweet taste and its soothing effect on the throat. (Get to know more)
Coquelicot :
You can benefit from its properties to naturally find a better sleep. (Get to know more)
Nutrition Facts


serving size 1 tbsp (19.6g)
EU standard N1169/2011
Amount per
100g
Amount per
serving (19.6 g)
Energy
243 kcal
48 kcal
Protein
< 0.5 g
< 0.5 g
Total Fat
< 0.5 g
< 0.5 g
- Saturated Fat
< 0.1 g
< 0.1 g
- Trans Fat
< 0.1 g
< 0.1 g
Carbohydrates
71 g
14 g
- Sugars
53 g
10 g
Sodium
58.4 mg
11.5 mg
Directions for use

Shake well before use. Take one tablespoon (15ml) once a day, preferably in the evening or one teaspoon (5ml) three times a day. Keep refrigerated after opening.
Precautions
Not recommended for people with allergies to bee products, pregnant women or children under 3 years. Cannot replace a varied and balanced diet and a healthy lifestyle. Keep out of reach of young children. Do not exceed the recommended daily dose. Keep away from heat and humidity.