Energie Vitale®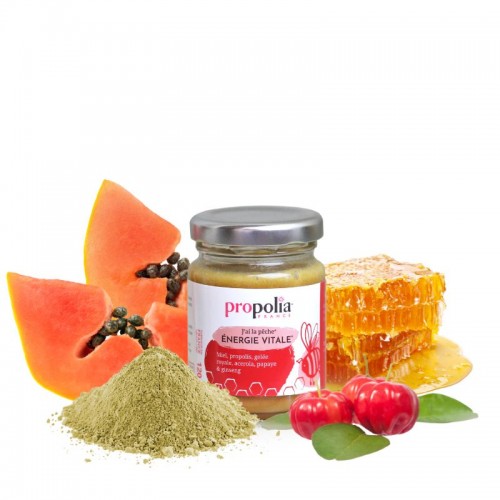 Labels
Ingredients
Honey (42.4%), Wheat syrup (Triticul aestivum L.) (gluten free), Propolis extract (4.5%), Royal Jelly (3%), Acerola extract 25% Vitamin C, Papaya powder, Ginseng extract,Orange natural flavor (Essential oil of Citrus Sinensis).
Nutritional values per 1 teaspoon (8g):
Honey 3.4g; Royal Jelly 243mg; Acerola extract (Malpighia Punicifolia) 224mg (including Vitamin C 40mg - 50% of RDA*); Papaya powder (Carica Papaya) 121mg; Propolis extract 360mg (dont Propolis); Ginseng extract (Panax ginseng) 32mg.
*RDA: Recommended Daily Amount
Key ingredients

Propolis (4.5%) :
The beehive's natural defence, acclaimed throughout history (learn more)
Ginseng:
"Panax ginseng", the traditional Asian panacea (learn more)
Royal Jelly (3%):
A rare and noble beehive product working in synergy with Honey and Propolis (learn more)
Nutrition Facts


serving size 1 tbsp (8g)
EU standard N1169/2011
Amount per
100g
Amount per
8g
Energy
309 kcal
25 kcal
Protein
0.7 g
< 0.5 g
Total Fat
< 0.5 g
< 0.5 g
- Saturated Fat
< 0.1 g
< 0.1 g
- Trans Fat
< 0.1 g
< 0.1 g
Carbohydrates
76 g
6 g
- Sugars
58 g
5 g
Sodium
33 mg
2.65 mg
Directions for use

Stir before use. Take a teaspoon every morning for a month and a half (3 jars).
Precautions
Not recommended for people allergic to beehive products, pregnant women and children under the age of 3. This is not a substitute for a balanced diet and a healthy lifestyle. Consult your physician or pharmacist if you are taking diabetes medications. Avoid contact with the eyes. Keep out of reach of young children. Do not exceed the recommended daily amount. Keep away from heat and damp.