Propolis Lozenges • Eucalyptus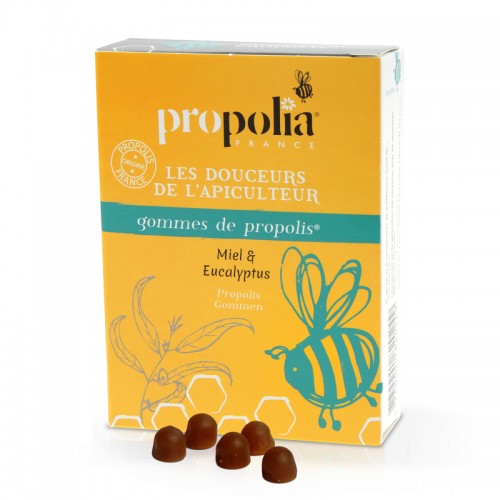 Labels
Ingredients

Thickener: Gum Arabic, Pure cane brown sugar, Honey 17%, Purified Propolis extract 6%, Essential Eucalyptus oil (Eucalyptus globulus), Natural mint and menthol flavours. Coating agents: Vegetable oil and Carnauba wax.
Nutritional value per six Propolis lozenges:
Propolis extract 330mg; Honey 935mg; Essential oil (Eucalyptus globulus) 13.75mg
Key ingredients

Propolis (6%):
The beehive's natural defence, acclaimed throughout history (learn more)
Honey (17%):
A fresh, clearing taste; a lozenge for every time of the day (learn more)
Eucalyptus:
The sweetness of Oranges in a lozenge for the entire family (learn more)
Directions for use

Slowly suck, don't chew, 5 to 6 lozenges a day
Precautions
Avoid giving to children under 3 years old or pregnant women. Do not take if allergic to any bee products. Keep in a dry and cool place. This is not a substitute for a balanced diet and a healthy lifestyle. Keep away from young children. Do not exceed the recommended daily amount.