After-meal Infusion - Tea - trial sample size pack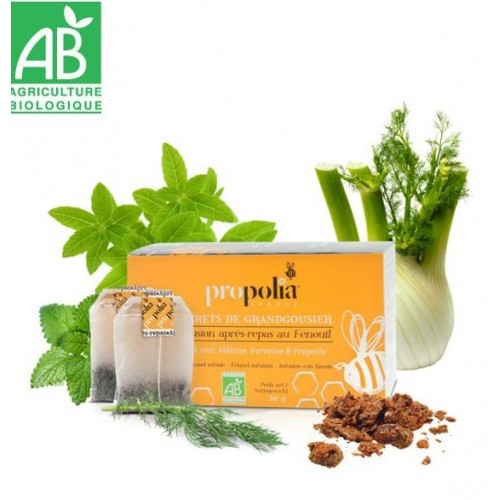 Labels
Ingredients
Plants* (Fennel 38%, Green Anise 29.5%, Melissa leaf 13%, Verbena 13%), Propolis Extract* 6.5%.
*Ingredients from Organic farming
Key ingredients

Propolis (6.5%) :
The beehive's natural defence, acclaimed throughout history (learn more)
Green aniseed:
A very light, well-known taste for this infusion (learn more)
Verbena-citronella:
This plant is well-known to herbalists. It was often used as an infusion by our grandmothers (learn more)
Nutrition Facts


300 g infused water (a mug)
EU standard N1169/2011
Amount per
100 g infused water
Amount per
300 g infused water (a mug)
Energy
1 kcal
3 kcal
Protein
0 g
0 g
Total Fat
0.008 g
0.024 g
- Saturated Fat
0.002 g
0.006 g
- Trans Fat
0 g
0 g
Carbohydrates
0.2 g
0.6 g
- Sugars
0 g
0 g
Sodium
1 mg
3 mg
Directions for use

Infuse a bag for 8-10 minutes in a cup of very warm water to fully appreciate all its aromas and virtues. Sweeten with your favourite honey and drink as often as you like.
Precautions
Do not take if allergic to any beehive products. Keep in a dry and cool place.