DIGESTIVE WELL-BEING CAPSULES • 120 capsules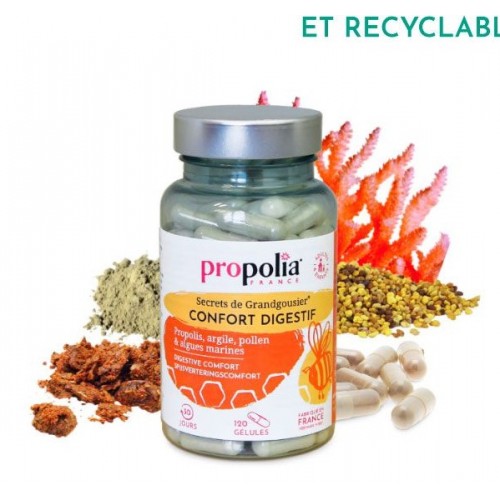 Labels
Ingredients
70% pure micronized Propolis extract, Green clay, Pollen, Marine algae (Lithothamnium calcareum). Capsule: Gelatine and water. Contains 80 x 427mg capsules.
Nutritional value per 8 capsules:
Propolis extract/Propolis extract 1.96g (including Propolis 490mg); Green clay 280mg; Pollen 280mg; Marine algae 280mg.
Key ingredients

Propolis (70%) :
The beehive's natural defence, acclaimed throughout history. (learn more)
Green clay:
he absorbent mineral par excellence (learn more)
Pollen (10%):
A beehive product of plant origin which works in synergy with Propolis (learn more)
Directions for use

Take 4 capsules at lunchtime and 4 in the evening, before meals. A regular intake over a month (3 jars) is recommended.
Precautions
Keep out of reach of young children. Do not exceed the recommended daily amount. Not recommended for people allergic to beehive products, pregnant women and children under the age of 3. This is not a substitute for a balanced diet and a healthy lifestyle. Keep away from heat and damp.