Tonic Potion® Enegry Booster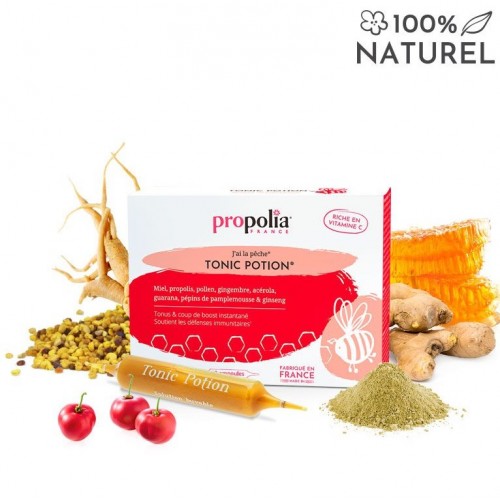 Labels
Ingredients
Water, Honey (20%),Ginger extract (5%), Acerola extract 25% vitamin C (4.8%), Pollen (3%), Purified Propolis extract (2.3%), Guarana extract (1%), Ginseng extract (0.95%), Grapefruit seed extract (0.91%), Essential Lemon oil. Excipient: maltodextrin.
Nutritional value per 1 vial (10mL):

Honey 2g, Ginger extract (Zingiber officinale) 500mg, Acerola extract (Malpighia punicifolia) 480mg (Vitamin C 120mg - 150% of RDA*), Pollen 300mg, Propolis extract 236mg, Guarana extract (Paullinia cupana) 100mg (Caffeine 10mg), Ginseng extract (Panax ginseng) 95mg (Ginsenosides 19mg), Grapefruit seed extract (Citrus paradisii) 91mg, Essential Lemon oil (Citrus limon) 4mg.
*RDA: Recommended Daily Amount
Key ingredients

Honey (20%) :
Chosen for its properties as an ingredient catalyst...and its sweetness! (learn more)
Guarana:
Renowned for its caffeine content, it goes well with Ginseng (learn more)
Pollen (3%):
Collected by bees from stamens, it provides protein and vitamins (learn more)
Nutrition Facts


serving size 1 vial (11g)
EU standard N1169/2011
Amount per
100g
Amount per serving
(11g = 1 vial)
Energy
176 kcal
19 kcal
Protein
1.1 g
< 0.5 g
Total Fat
< 0.5 g
< 0.5 g
- Saturated Fat
< 0.1 g
< 0.1 g
- Trans Fat
< 0.1 g
< 0.1 g
Carbohydrates
43 g
4.7 g
- Sugars
32 g
3.5 g
Sodium
6.8 mg
0.75 mg
Directions for use

Use depending on your needs. When lacking energy or concentration, we recommend using Tonic Potion®: every morning, dilute an ampoule in half a glass of water. Shake well before use as some properties may settle.
Precautions
Not recommended for people allergic to beehive products. Contains caffeine, which is not recommended for pregnant women and children under the age of 3. This is not a substitute for a balanced diet and a healthy lifestyle. Keep out of reach of young children. Do not exceed the recommended daily amount. Keep away from heat and damp.
How to open




1. Shake well before use
2. There is a pre-cut after the White line at both side, please break the tips after the white line
3. Get ready for a cup, and then break the 1st tip of the vial ( any side) in quick action
4. Break the 2nd tip of the vial and drink it after pouring into the cup
5. Be care & handle with care, it could be shape at both side of the vial! Please properly dispose of the glass fragments into the trash, Keep out of reach of little children.