Hair & Nails Capsules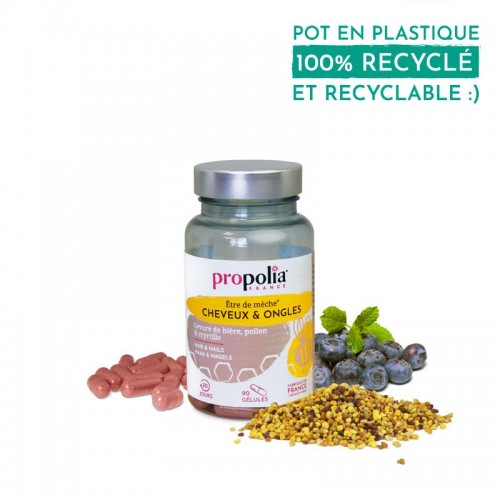 Labels
Ingredients
Blueberry Powder (Vaccinium myrtillus L.) 35%, Pollen 31%, Brewer's yeast 31%, L-Selenomethionine, Zinc Citrate, Vitamins B5, B6, B8.
Contains 90 capsules (capsule of vegetable origin) of 438 mg.
Nutritional values per 8 capsules :
Blueberry Powder 378 mg, Pollen 340 mg, Brewer's yeast 335 mg, L-Selenomethionine 11 mg of which Selenium 55 µg (100% of GDA*), Zinc citrate 7,3 mg of which Zinc 2,25 mg (22.5% of GDA), Vitamin B5 6 mg (100% GDA), Vitamin B6 1.4 mg (100% des GDA), Vitamin B8 150 µg (300% of GDA).
*GDA: Guidance daily allowance
Key ingredients

lueberry (35%):
Small berry with amazing properties, which acts on the scalp. (to know more)
Poly-floral Pollen (31%):
Beehive products of vegetable origin with nutritional properties (to know more)
Brewer's yeast (31%):
Renowned for its effects on hair. (to know more)
Directions for use

Take 3 capsules per day, preferably on an empty stomach.
Precautions
Not recommended for people with allergies to bee products, pregnant women and children under 3 years. Cannot replace a varied and balanced diet and a healthy lifestyle. Keep out of reach of young children. Do not exceed the recommended dose. Keep away from heat and humidity.
Storage Warning: This package is designed to be recyclable and can be dissolved directly into the soil, but this package is not suitable to be put under the high humidity environment and the molds could be appeared on the package or become moldy by the Moisture & water drops generated by the sudden rise & fall of temperature day by day especially during Spring season and summer