Organic Acacia Honey 400g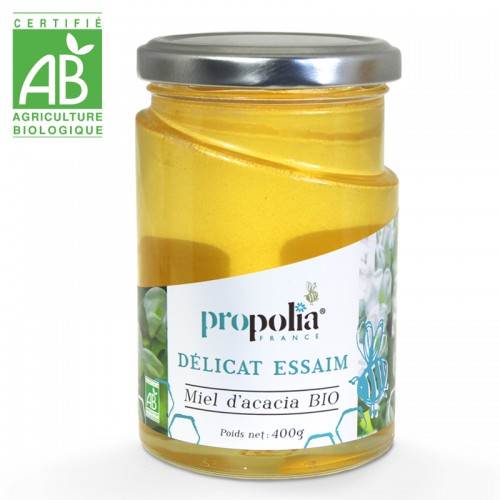 Labels
THE FRENCH "AB" (ORGANIC FARMING) & EUROPEAN ORGANIC FARMING LABEL

This means that we comply with "Organic Farming" specifications and that we do not use any chemical fertilizers, or chemical weed killers, or pesticides, or chemical fungicides.
A little culture

Acacia, as we usually know it, uses a false name. This tree is in fact called Robinia pseudoacacia (or false Acacia), named after Jean Robin who imported it from Virginia in the 17th century.
This tree species is fairly localised in France (particularly in the Paris region), and little cultivated because it is considered to be invasive. On the other hand, Hungary is one of the most productive countries for Robinia's honey. It has been cultivated there for several decades for the use of wood, whose properties of resistance to flexibility are used in carpentry. Hence the presence in Hungary of vast forests of Acacia.
Directions for use
It can be spread on a slice of rye or wholemeal bread, with or without butter (we love it with salted butter). It can be added to morning tea or simply with a yogurt. In the kitchen it can be used to soften your meals and salad dressings - it is all about taste and desire!
Precautions
To preserve all the flavors and qualities of honey it is recommended not to heat it above 37° C. If necessary make it a little more liquid by warming it up on a radiator or in a hot-water bath over a low heat. Store in a dry place away from light.
Nutrition Facts


serving size 1 tbsp (21g)
EU standard N1169/2011
Amount per
100g
Amount per
21g
Energy
327 kcal
69 kcal
Protein
0.52 g
< 0.5 g
Total Fat
0 g
0 g
- Saturated Fat
0 g
0 g
- Trans Fat
0 g
0 g
Carbohydrates
81 g
17 g
- Sugars
80 g
17 g
Sodium
4.11 mg
0.86 mg