Organic Propolis Tincture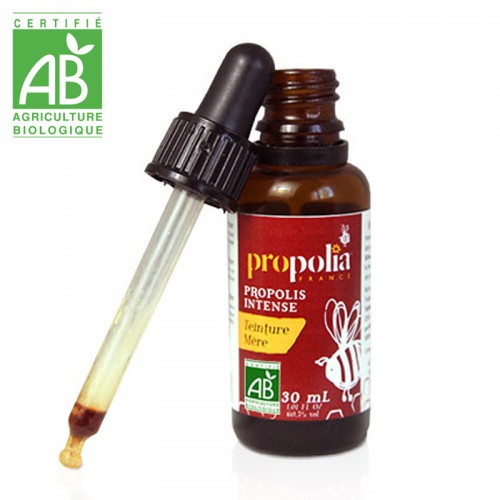 Labels
Ingredients

100% purified organic Propolis extract *.
Extract solvents: Alcohol, water.
*Ingredients from organic Farming
Per 4 pipettes : 2.8ml (2.62g) Propolis extract or 420 mg Pure Propolis.
Key ingredients

Propolis :
The beehive's natural defence, acclaimed throughout history. 100% concentrated extract with 21% Pure Propolis. (learn more)
Directions for use

Take a pipette of propolis tincture and squeeze once - 1 to 4 times a day. For optimal use, mix the drops with a teaspoon of honey or put on a sugar cube, piece of bread or biscuit. For a warmer solution, inject the contents of the pipette into your favourite herbal tea, then stir well till fully mixed.
Precautions
Not recommended for people allergic to beehive products, pregnant women and children under the age of 3. This is not a substitute for a balanced diet and a healthy lifestyle. Avoid contact with the eyes. Keep out of reach of young children. Keep away from heat and damp. Do not exceed the recommended daily amount.
(recommend to mix it with water, how to use?Watch video! )