Throat Syrup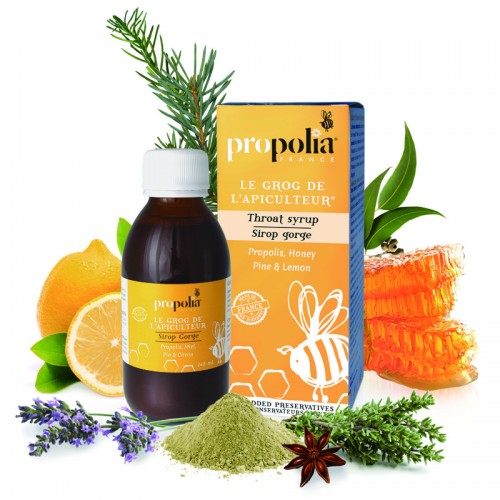 Labels
Ingredients
Wheat syrup (gluten free), Honey 24.3%, Aqueous plant extracts 21.4% (Hyssop, Pine, Thyme, Lavender, Star anise, Poppy, Mullein, Mauve, Violette), purified Propolis extract 3%, Essential Lemon, Pine, Eucalyptus and Thyme oils.
Nutritional values per 15mL (3 soup spoons):
Honey 4.76g; Propolis extract 586mg; Aqueous plant extracts: Hyssopus officinalis 1g, Pinus sylvestris 710mg, Thymus vulgaris 669mg, Lavandula spica 627mg, Illicium verum 376mg, Papaver rhoeas 334mg, Verbascum thapsiforme 209mg, Malva sylvestris 209mg, Viola odorata 42mg; Essential oils: Citrus limon 20.1mg, Pinus sylvestris 5.86mg, Eucalyptus globulus 5.86mg, Thymus vulgaris 4.3mg.
Key ingredients

Propolis (3%):
The beehive's natural defence, acclaimed throughout history (learn more)
Honey (24.5%):
Known by all for its smooth taste and soothing action. (learn more)
Thyme:
Thyme is traditionally used for fumigation and in infusions during the winter (learn more)
Nutrition Fact

s


serving size 1 tbsp (19.6g)
EU standard N1169/2011
Amount per
100g
Amount per
serving (19.6 g)
Energy
1063 kJ
208 kJ
Calories
250 kcal
49 kcal
Fat
0 g
0.02 g
Carbohydrate
62 g
12.2 g
Protein
0 g
0.03 g
Directions for use

Shake well before use. Take one soup spoon (15mL) once a day, preferably in the morning or one teaspoon (5mL) three times a day. Keep refrigerated after opening.
Precautions
Not recommended for people who are allergic to beehive products, pregnant women and children under three. Does not replace a varied and balanced diet and a healthy lifestyle. Keep out of the reach of young children. Do not exceed the recommended dose. Store in a cool, dry place.