Purifying Nasal Spray (For sensitive nose)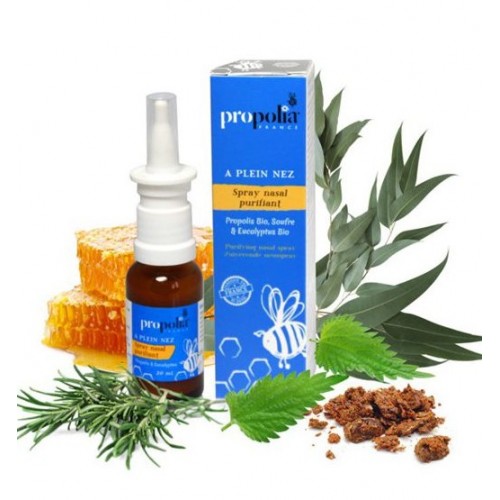 Labels
Ingredients
Aqua (Water), Glycerin**, Alcohol** , Propolis cera*, Mel (Honey)*, Rosmarinus officinalis (Rosemary) leaf extract*, Eucalyptus globulus (Eucalyptus) leaf extract*, Lamium album (White nettle) extract*, Rosmarinus officinalis (Rosemary) leaf oil*, Sulfur, Sodium chloride, Citric acid, Sodium benzoate, Potassium sorbate, Dehydroacetic acid, Benzyl, Alcohol.
*Ingredients from Organic Farming
**Made using Organic Ingredients
Key ingredients

Propolis:
The beehive's natural defence, acclaimed throughout history (Learn more)
Thyme:
Thyme is used for fumigation and in infusions during the winter (Learn more)
Eucalyptus:
A sensation of freshness for your nose and clear nasal passages (Learn more)
Directions for use

Spray each nostril once or twice, three times a day. Shake before use. Blow your nose, then put the bottle tip into a nostril and squeeze while inhaling through your nose. Wait a few minutes then blow your nose again. Clean the bottle tip after use.
Precautions
Do not use under the age of 3. Medical device. Do not use if allergic to any beehive products. Keep out of reach of young children. Avoid contact with the eyes. Use within 30 days of opening. Keep away from heat and damp.