Organic Thyme Honey 125g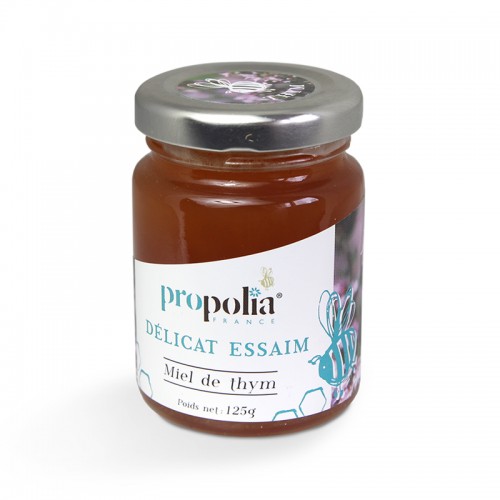 A little culture

It has become relatively rare because of the very dry Summers in the South of France. Thyme honey often comes from Spain or Greece where it is naturally plentyful.
The benefits of thyme honey have been highlighted in recent years in the health sector thanks to the work of Prof. Descottes at the CHU (Hospital) of Limoges. Inspired by the empirical experience on the beneficial effects of honey on the skin, the Professor's department conducted different research on various types of honey before determining that Thyme honey was the most effective in helping to heal wounds. Since then the CHU of Limoges and other establishments in France use this honey as part of their care.

Directions for use
It can be spread on a slice of rye or wholemeal bread, with or without butter (we love it with salted butter). It can be added to morning tea or simply with a yogurt. In the kitchen it can be used to soften your meals and salad dressings - it is all about taste and desire!
Precautions
To preserve all the flavors and qualities of honey it is recommended not to heat it above 37° C. If necessary make it a little more liquid by warming it up on a radiator or in a hot-water bath over a low heat. Store in a dry place away from light.
Nutrition Facts


serving size 1 tbsp (21g)
EU standard N1169/2011
Amount per
100g
Amount per
21g
Energy
327 kcal
69 kcal
Protein
0.52 g
< 0.5 g
Total Fat
0 g
0 g
- Saturated Fat
0 g
0 g
- Trans Fat
0 g
0 g
Carbohydrates
81 g
17 g
- Sugars
80 g
17 g
Sodium
4.11 mg
0.86 mg